Latest news
New Kits now available! 27/10/2021
Our first Sunbeam Alpine model is now available 21/10/2021
All we need is decals 15/10/2021
Impending shortage of GTM car kits... BUY HERE! 30/09/2021
Maserati 151 coming along nicely 23/09/2021
We have finished making our EE Transporter gearbox 09/09/2021
News
Lots of new stuff underway
01/04/2021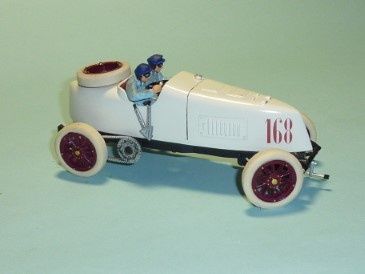 Lots of new stuff underway, our little 1930s MG Aero kit is finished and will be on the car page and for sale next week. It will come with two grills (slatted or gause) so you can decide what T it is. This little MG has turned out better than I expected and looks great next to our little Fiat Balilla. Obviously the next step will to dress one up in Gulf colours and livery haha.
Anyway, more new models. A 1903 Mors Dauphin is nearly done, yes it does look like an upturned boat, but it is still pretty. It will use the same set up as the other Edwardian kits but I think it has a very different look. Still got a couple of oldies to go.
I am putting decals on my Lotus 23 models so these will be done in a few days. Then it will be on with the EE transporter properly this time.
Now for a slightly unpleasant bit of news, all our kit prices will be increasing by £1 to cover the increased cost of resin and other resources. Our resin alone has increased by 10%. Brexit is going great isn't it?