Latest news
Artwork is underway 18/02/2021
The Maserati 151 LM is coming along nicely... 11/02/2021
RIP to our Jaguar XJS 04/02/2021
New Kits now available! 02/02/2021
The Lotus 23s are nearly there. 28/01/2021
At last the Vauxhall Firenza Droopsnoot is on the car page 21/01/2021
News
Last News of the Year
14/12/2017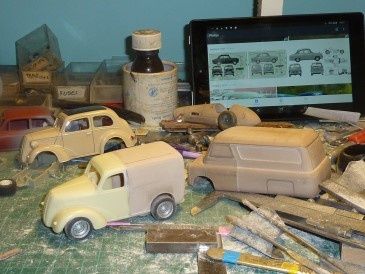 Last news of this year. Yes we are taking a little rest until the Third of January (10th of January for Joe as he is going away). I am still messing about in the workshop making my CA Van and also a little Ford Pop van. That will be enough vans for a while. I think the CA will be very popular, we already have a few pre orders which is always a good sign. The Pop van just sort of happened but I think it will be very pretty.

We are obviously not turning orders away so feel free to order lots of stuff to build in the year. Just be aware we will be dispatching after Xmas.
Over the Christmas break we will be doing some work on the website. We will be phasing out the running gear sets. These have proved popular but very time consuming and a bit more than just the two of us here can handle effectively. What we intend to do is give each model a list of parts to finish the model and allow you to source your own and modify if you wish. Or we can supply a code that you can give to Pendle Slot Racing and will sort out a set of parts for you, we still have to organise this with Pendle so keep eyes peeled for more news on that.
We hope this will be more efficient as we cannot stock all of the parts for all of our models, while Pendle as a specialist in this can. Trying to keep up with the correct stock was just not working. Indeed these sets proved so popular that over the past few weeks we have sold more than the rest of year combined. And unfortunately we are just not set up to deal with those volumes. Also when we were waiting to be resupplied of parts it was causing backlogs in the models that were waiting to be dispatched.
We have a very diverse range and this year we have made more new models than any other year, as you can see from the photo. A hell of a lot of new stuff.
So what for next year you may ask? I am hoping to keep the range full of diverse types of models. We still have the Chevy fire engine and 3 new Lister Jaguars to put on the website. They will have to wait though until the new year.
So I'm off for a beer or ten. Merry Christmas, Happy Holidays and a Happy New Year to all of our lovely customers.
Thanks for all the beer.