Latest news
Important Notice... 05/06/2023
The Beast has proven to be very popular 25/05/2023
Beast of Turin Update 28/04/2023
At last the Beast of Turin is up along with more! 21/04/2023
Lots of new stuff coming along 06/04/2023
At last our 1924 Le Mans Bentley is finished 09/03/2023
News
Time consuming
27-03-13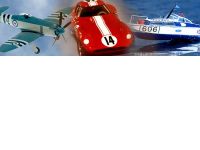 As per usual I am very behind with orders, so bear with me if your order is taking a while. Old hands can only do so much. The ferrari 126C2 is taking up most of my time and the first ones are on their way. A couple of moulds have had to be remade, the engine mould is abit tricky so wares quickly, but works with a little care. Four photos of each of the three cars can be found for reference on the SSGP section on the gallery. New, more organise sections will soon be put on the gallery helping with reference.
I thought I would put a pic up of Fangios 1951 Alfa 158 Swiss GP winner. This is a new casting and I think it looks great with its mud spats and open vent and yes it had only one No 24 on the Bonnet.
Some customers have asked why the Jag Mk7 rally car is out of production already. This is because the mould has worn out and I have to consider if its worth making a new one. These big models use a lot of rubber to make the mould plus twice as much resin to make a body and as sales fall away if it is financially viable. But do not worry a new racing version is on the way as driven by such greats as Stirling Moss. The decals are done and it will be ready for the Gaydon Slot festival. Will put some photos up soon.