Latest news
New Painted Special! 26/01/2023
New Kit Available! 20/01/2023
The first news of 2023 19/01/2023
Back to work! 04/01/2023
Seasons Greetings and Happy New Year! 15/12/2022
My first show in two years, new models, and the cull 01/12/2022
News
The new Jag Mk 7
14-04-13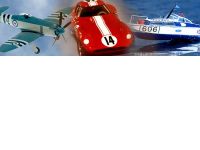 Here is the First Pic of the new Jag Mk 7, the racing version. This is a new moulding with a couple of changes from the rally version. Hopefully will be in production in the next month.
I probably wont be doing anymore of these big cars as they use up a lot of materials, resin and rubber etc. and to make them economically viable the price would have to go up quite abit. As mentioned before you only get about 30 decent castings out of a mould then you have to decide if it is worth remaking. Some models have a very limited market, especially as a kit.
Unfortunately we have had to put the postage up. This is due to the post office changing its pricing structure and increasing the charges.
There will be a new accesory section soon, the first item will be brake drums, costing £5 for 8 drums plus pnp but no pnp if ordered with a car.