Latest news
Important Notice... 05/06/2023
The Beast has proven to be very popular 25/05/2023
Beast of Turin Update 28/04/2023
At last the Beast of Turin is up along with more! 21/04/2023
Lots of new stuff coming along 06/04/2023
At last our 1924 Le Mans Bentley is finished 09/03/2023
News
On the website soon
16-03-13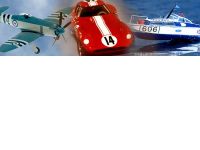 First of all appolgies to anyone who is waiting for their order to arrive, I am very behind with everything at the moment but my main priority is moulding and getting orders out. Basicaly I have tried to bring too much stuff out at once and it all went abit pear shaped.
Anyway here is a list of the new cars that I am decaling up at the moment and should get photographed and on the website very soon.
Maserati 4CLT
Villoresi 1st British GP 1948 No 18
Ascari 2nd British GP 1948 No 11
Degrafenreid 1st British GP 1949 No 2
Fangio 1st GP De Pau 1950 No 10
Fangio 1st San Remo GP 1949 No 18

Alfa 158
Trossi 1st Italian GP 1947 No 30
Wimille 1st Swiss GP 1947 No 38
Wimille 1st Monza GP 1948 No 32
Fangio 1st Monaca GP 1950 No 34
Fangio 1st Swiss GP 1951 No 24
Note the pre 1950 cars have twin exhausts and have been cast with the scuttle vent open, the 1951 car has side spats
Ferrari 126C2
1982 San marino GP Imola, 1st Didier Pironi No 28 1982 San marino GP Imola, 2nd Gilles Villeneuve No 27
1982 Belgium GP, Gilles Villeneuve No 27 Practice

As you can see from the photo the Dick Seaman MGK3 is nearly done. There will be about 20 kits and ten of which will be built and ready to run.

Thats about it for now, on with the decaling... joy!