Latest news
The Cull Sale Underway 30/11/2023
The Owlet is finished/ The Cull Returns 23/11/2023
Another painted special and the owlett underway 09/11/2023
New Kits Available! 02/11/2023
Two more oldies 27/10/2023
1.24 Anglia Now Available! 20/10/2023
News
Decals for the ferrari 126C2
11-02-13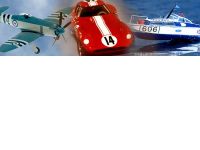 The decals for the ferrari 126C2 will be ready by the end of Feb. I have a good few orders already so hopefully will prove to be a popular model. Also the same sheet will be decals for the new maserati 4CLT, 5 versions will be available along with 5 new sets for the alfetta. 2 new alfa 158 body shells have been moulded, the pre 1950 car with double exhaust pipe and a 1951 car with mud spats. Decals have also been made for the Lancia ferrari D50 1955 Monaco GP cars. All 4 cars are cattered for including the No26 in practice stencil form. Pictures of this car are on my facebook page George Turner Models, as well as on the website gallery, its not quite finished yet as it has a lot of rivets left to put on. Joy.
The clubman cars are proving popular, especially the wanglia. This supprised me as it is the only model that I have widened the body on, contrary to popular belief (and no sign of the end of slot racing in sight despite what one or two people seem to believe *cough*). In scale form the anglia is rather narrow so not a good model to race. The extra width I think will help it against other slightly wider cars.
Thats all for now, hope to see some of you at Milton Keynes.