Latest news
New Painted Special! 26/01/2023
New Kit Available! 20/01/2023
The first news of 2023 19/01/2023
Back to work! 04/01/2023
Seasons Greetings and Happy New Year! 15/12/2022
My first show in two years, new models, and the cull 01/12/2022
News
We are getting there
04/12/2020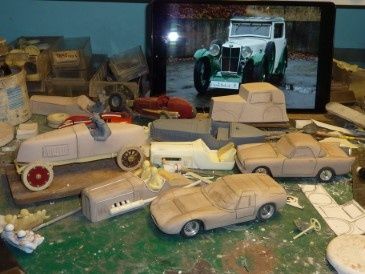 We are getting there. Casting 7 days a week and our dining room table is covered in little resin car kits, getting ready to go out next week. Then the next batch but we are working our way through it. Fortunately for me Joe does the casting etc. so I am still able to get on with making prototypes.
The Alpine and Maserati plus a couple more edwardians including the 1903 Mors. Strange car but interesting, plus a 1930s MG Salonette, another slightly quirky model but like the Fiat Balilla, quite pretty. I have another 30s MG in mind as well.
The Ecurie Ecosse transporter is still hiding somewhere in the work shop, this model was to be finished for the Gaydon Slot Car festival in May. Then came along Covid and all our slot car shows got cancelled. And for some reason the transporter got put to one side. But it is not forgotten and I intend to finish it for May next year. Hopefully it will be back on by then but unfortunately I doubt I will be there as the organisers did not appreciate when we did our virtual shows, so I and a couple of others are in the bad books. So maybe it will another virtual show next year as well?
I do have to be careful though as I have had addisons disease since I was 18 so my immune system is not that good. So even though I would like to meet up and talk to all of our lovely customers I have to be very careful. Hopefully the vaccines will be widely in use by then.