Latest news
Artwork is underway 18/02/2021
The Maserati 151 LM is coming along nicely... 11/02/2021
RIP to our Jaguar XJS 04/02/2021
New Kits now available! 02/02/2021
The Lotus 23s are nearly there. 28/01/2021
At last the Vauxhall Firenza Droopsnoot is on the car page 21/01/2021
News
We are almost at the end of January
31/01/2019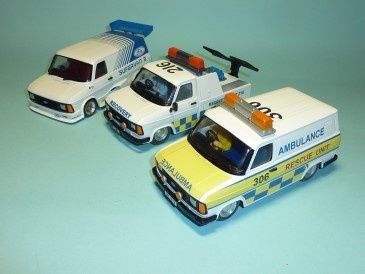 We are almost at the end of January so what have we achieved in the first month of 2019. Quite a lot really, the Transit Supervan is finished and looks very nice indeed, an unusual subject for a slot car, but I think it has come out very well. The Transit recovery vehicle is also finished and along with the Transit rescue unit will be ideal to enhance the pit area on any layout. They also work as slot cars... trucks... vans.
The Triumph TR7 is coming along nicely, hopefully it should be sorted by the end of next week.
A new four wheeler trailer is also nearly done with the covered trailer in the mould.
I will stop writing now as it is mignight and Joe says I write utter drivel when it gets late (Note from Joe: I have even had to translate the above into some kind of English)