Latest news
Important Notice... 05/06/2023
The Beast has proven to be very popular 25/05/2023
Beast of Turin Update 28/04/2023
At last the Beast of Turin is up along with more! 21/04/2023
Lots of new stuff coming along 06/04/2023
At last our 1924 Le Mans Bentley is finished 09/03/2023
News
Seasons Greetings and Happy New Year!
15/12/2022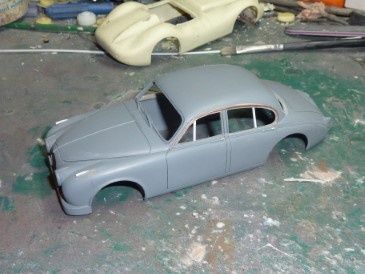 This will be our last few lines of news for this year. For the next two weeks we will be having a good tidy up and a rest, I think we have earned it.
This means our last post of the year will be on Monday the 19th. Unfortunately this also means that any orders we receive now through the Christmas period will be processed in the new year, we thank you for your patience. Also while we are on post, if you are awaiting a built model from us we have experienced some delays due to the postal strikes. We are currently awaiting tyres etc. hopefully they should not be too long though.
This is our big clean up and it happens once a year, so it may take a day or two, or even three if I am feeling lazy. Basically we like to go through everything and purge out all the old bits of crap and get into the nooks and crannies to clear out the old dust. There is a lot of dust. Joe has already started chipping out the resin from our vacuum tank. Not the nicest of jobs.
We are already working on models for next year. Our 1924 Bentley is well on its way, and I am hoping it will be ready towards the end of January. My little Christmas project this year is to modify my Mk. 1 Jag into a Mk. 2. So our first new model for 2023 will be a lovely little Jaguar Mk. 2. It is surprising how many mods are needed but it is looking good!
Finally, to all of our customers, thank you all for another year and all your business and support. We wish you seasons greetings, a very merry christmas, and a happy and prosperous new year. And Loki says thanks for the dog food!