Latest news
Important Notice... 05/06/2023
The Beast has proven to be very popular 25/05/2023
Beast of Turin Update 28/04/2023
At last the Beast of Turin is up along with more! 21/04/2023
Lots of new stuff coming along 06/04/2023
At last our 1924 Le Mans Bentley is finished 09/03/2023
News
Our last MG for a little while
13/05/2021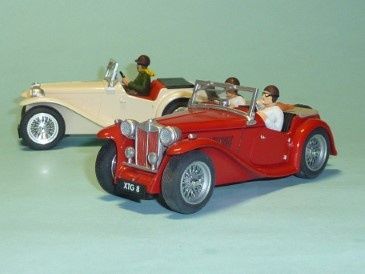 Our last MG for a little while is going up on the car page momentarily. The MG T series is all done and as we are very nice you will have a choice of drivers.
The kit includes the Stits sisters; Norma or Gloria, or their Father Boris. Unfortunately due to Boris' lying, cheating and womanising he had to flee the country, but his daughters carried on racing and hill climbing in the early 50s ;)

This week I have been remaking moulds so not a lot of work on the EE transporter but next week I will be getting stuck in. Joe says I cannot do any cars until it is finished so a good couple of weeks should see it done.
Also, a Pendle parts pack for the MG T series should be appearing on their website soon.