Latest news
New Painted Special! 26/01/2023
New Kit Available! 20/01/2023
The first news of 2023 19/01/2023
Back to work! 04/01/2023
Seasons Greetings and Happy New Year! 15/12/2022
My first show in two years, new models, and the cull 01/12/2022
News
Our first news of 2019
04/01/2019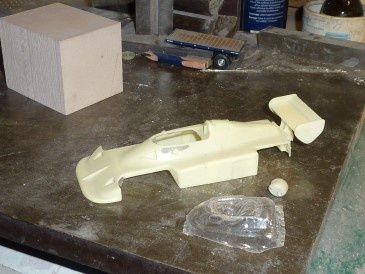 Our first news of 2019 and lots of new models to make. Blocking out has already begun. Over the Christmas shutdown I have a bit of time to think up new stuff, see it isnt all beer and mince pies.
I have started blocking out 5 completely new prototypes. First is the Triumph TR7, found a reasonable plan by Johnathan Wood and a 1/24 Gunzesangyo kit for some starter reference. We will also modify this model into the group 44 TR8. Scalextric I know did make a TR7 but it was horrid and now 1/32 scale.
A quick rant about old plans and drawings, look this may hurt you budding scratch builders and model makers who should know better. But most of the old model car magazine plans are crap. They may have been ok to use in the 60s but not now. Use them as a guide only. If you blindly make a model from them it will be wrong. As I have said before Derric Ridley and J Wood plans are usualy pretty good. Never use these three view colour plans, they are very very bad.
Next model will be a Ford Lotus Cortina Mk. 2, found a couple of reasonable drawings but the above still applies. Again it has been done before but I think I can do a reasonable job.
After that it will be the droop snoot Vauxhall Firenza which will be transformed into the Baby Bertha, if you don't know it Google it, should look very very mean.
The Austin 1800 Landcrab, you know about as well as the Fiat Billala. The transit will be modified into a couple more version, the supervan and recovery models are done and are just waiting on decals. The 1/24 broadspeed Anglia is also in the plan for this year.
Truck wise the Bedford OB cab is underway and I intend to make an American Ford 1960s N series cab. Hopefully a couple of surprises for Gaydon in May.
Back to now though. We are going to mould a few of these 6 wheel Tyrells, it was originally moulded off the Matchbox kit and to made to fit on a Richard Mack super special chassis. It will come as a resin body, rear spoiler and vac formed driver with his head. No chassis or decals but you can get decals from Pattos place. If you ask uncle Richard very nicely and give him money he just might make you on of his superb metal chassis. The resin parts from me will cost £20, get in quick as we won't make many, the mould is old.
So that is it for now we will be fully up to speed by next week and will probably have changed my mind on most of this, only joking. I still have a couple of ideas but we will keep these for a later date.