Latest news
New Edwardian Chassis 21/09/2023
Redesigning our Edwardian chassis 14/09/2023
1.24 Anglia moulded 07/09/2023
Three New Painted Specials! 24/08/2023
New Kits Available! 18/08/2023
Back to work 21/07/2023
News
Our Edwardian racer car project is nearly finished
11/09/2020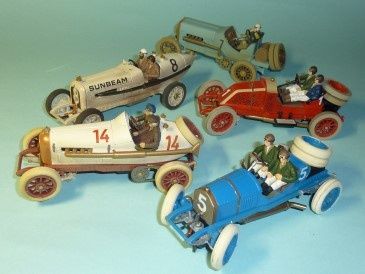 Our Edwardian racing car project is nearly finished at last. We had to reqork the steering but it is just about there. It now uses a Sloting plus guide with an adapter of our design bringing the guide further forward but still not showing. The chassis, wheels, tyres and running gear are standard for all of these models. We will have five different cars to choose from and I hope you agree they all look pretty damn good.

The wheels were a little bit complicated to sort out but from 3D printed prototypes we have managed to mould them in resin succesfully. Pendle Slot Racing have some nice cream colours tyres in stock which rearly suit these old cars. We have used a little creative license with these models to make them into useable slot cars, but a happy compromise I think between something that looks really good and works very well.
We have another couple of bodies in the ppeline but we will see how these ones go first. We will also put a couple more vids up on facebook so you can see how well they work as well.

I have to say a big thank you to Gareth at chasecars for his help on this project. We will be putting these kits up on the car page in the near future.
Now onto the little Fiat and then the EE Transporter!