Latest news
Progress on the Owlet 28/09/2023
New Edwardian Chassis 21/09/2023
Redesigning our Edwardian chassis 14/09/2023
1.24 Anglia moulded 07/09/2023
Three New Painted Specials! 24/08/2023
New Kits Available! 18/08/2023
News
Not saying a bloody word...
12/11/2016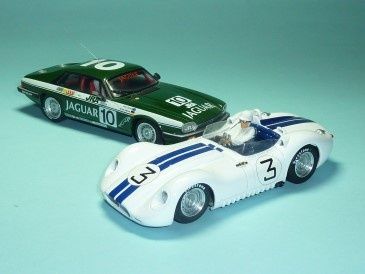 Not saying a bloody word, just too depressed but on the brighter side we have re released two more models. Our little Austin Twin Cam is back, this model has always been popular so I'm sure it is a welcome return. Also my super duper modified Cheetah is back. This is one of my favourites so I will definitely be buying one...Hopefully our Jaguar TWR XJS will be back next week with a new chassis and a few mods. As you know I do like my Jags. I have made a second version of the Lister Jaguar, this will be the Cunningham car. It's all mooulded but we do not have any decals. So this one has been cobbled together from bits so not sure what I am doing with it. If anyone is interested, let me know and I will be able to sort a few out. It does look pretty though.
We have just received some more running gear sets. They will be going on the website in the next few days and that will be about 75% of our kits will now be available with running gear.
I will be going to the Orpington slot car show on the 20th of November. So if you are attending and would like me to bring anything specific let me know, because I will obviously be overwhelmed with customers and will sell out in the first hour.