Latest news
New Painted Special! 26/01/2023
New Kit Available! 20/01/2023
The first news of 2023 19/01/2023
Back to work! 04/01/2023
Seasons Greetings and Happy New Year! 15/12/2022
My first show in two years, new models, and the cull 01/12/2022
News
My first show in two years, new models, and the cull
01/12/2022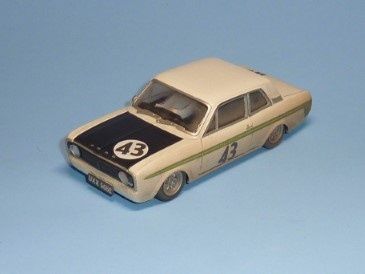 After two years I attended my first trade show and it was very good to meet up with some old friends. I had a very good day and took my little track down, which proved very popular. Fortunately Orpington is only an hours drive for me so I did not have to get up too early. I am not gettting any younger after all, 69 next week, so will not be attending shows that require a long drive. Milton Keynes and Orpington are just about right.
In car news we have some new offerings for you. The RAC Volvo PV544 is ready and live on the website, as is the Singer 9 Le Mans, and Sunbeam road car.
The Volvo looks very nice in cream, and the Sunbeam is a good example to let you realise your own versions of an iconic British sportscar. And the Singer 9, well that's just damn pretty. We also have a RTR Cortina available on the specials page, coming with a nice dusty finish.

I am getting on with the 1924 Le Mans Bentley and it is coming along nicely. Still a bit of work to do so I think we are looking at releasing in the new year.

Now for a bit of end of year business. The Cull.

As many of you know this time of year we decide which of our kits to phase out to make room for new ones. The decisions have been made and added to the list are the following:

GT-505 MGC Sebring 1968
GT-506 MGC Sebring 1969
GT-333 Triumph GT6
GT-335 Triumph Spitfire Hardtop
GT-341 Mazda RX7
GT-351 Frazer Nash 1951 Targa Florio
GT-353 Frazer Nash 1951 Isle of Mann
SAL-103 Imp (Mega wide)
SAL-183 MGT with Tourneau
TRU-303 Bedford Pick Up
TRU-602 Ford Supervan 2
TRU-701 and 702 Fiat Transporter
GP-801 Ferrari C2
TRA-101 - 901 All Trailers

As a little bit of a bonus all through December all cull items are 5% off, so go wild!
You can find all of them on the new shopsite, just look for "The Cull List" under the cars tab

PS. For our international customers concerned about customs fees etc. Please be aware that on customs forms we state a value of only £5 per model. Hopefully this will help with any fees encountered in transit.