Latest news
The Owlet is finished/ The Cull Returns 23/11/2023
Another painted special and the owlett underway 09/11/2023
New Kits Available! 02/11/2023
Two more oldies 27/10/2023
1.24 Anglia Now Available! 20/10/2023
Darracq chassis issue 13/10/2023
News
Making good progress on our 3D printed wheels
18/08/2022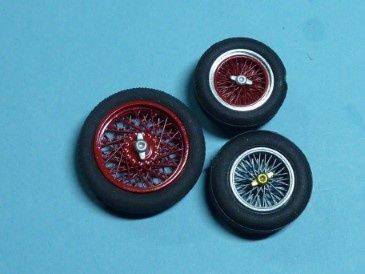 We have made a good deal of progress with our 3D printed wheels and wheel inserts. First we have 2 wire wheels, one for the Edwardian cars or any car using a 20.5mm wheel diameter and will accept most of the slimmer Pendle tyres, the second is a 16" wheel with a rim diameter of 13.8mm, these also take the slim Pendle tyres. We have been able to do these without a solid backing on the wheel so they look very realistic.
We have also worked a 12mm wire wheel insert.
They all have 2 layers of spokes and look better, in my opinion, than a lot of photo etched options. They are all available for sale on the shop site.
We have also updated some of our wheel inserts to be 3D printed. These are also available now.