Latest news
Progress on the Owlet 28/09/2023
New Edwardian Chassis 21/09/2023
Redesigning our Edwardian chassis 14/09/2023
1.24 Anglia moulded 07/09/2023
Three New Painted Specials! 24/08/2023
New Kits Available! 18/08/2023
News
I am very pleased with the new Transporters
30/05/2019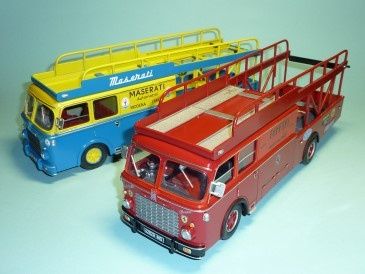 I have just finished the Fiat Transporter with the Ferrari livery and I think it looks very good. I am pleased with the way they have turned out and happy that it is proving very popular. So if you have one on order we thank you for your patience, we are currently waiting on a restock of the tyres for them, after which we will be getting our next batch out. It does take a while to make these kits up, we think in terms of time and everything else on our end, one of these models is equivalent to about four normal kits.
Now it is time to move on and the droop snoot Firenza is underway. I am off to photograph a real one as a mate has one. This will be our first Vauxhall car and hopefully not our last, after the standard car I intend to make Baby Bertha.
I have blocked out a couple more cars. The next few should be saloon and sports cars. We will bring back a couple of existing models including the ERA for the GP section, I do like the ERA, it has a bit of character.