Latest news
New Painted Special! 26/01/2023
New Kit Available! 20/01/2023
The first news of 2023 19/01/2023
Back to work! 04/01/2023
Seasons Greetings and Happy New Year! 15/12/2022
My first show in two years, new models, and the cull 01/12/2022
News
Had a very productive few days.
17/01/2019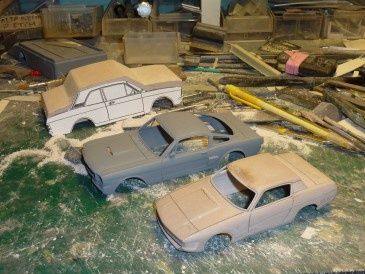 Had a very productive few days. The Triumph TR7 is taking shape nicely, I have spent the day milling, grinding, scraping and sanding the inside out so now we have a nice thin shell. Still a bit to do but nearly there. This is the basic shell, now the hard part begins, bumpers, interior, driver, window, chassis etc. This will take longer than what has been done so far and is just as important. Then of course the rubber moulds, artwork and decals. At the moment I would say it is about 30% done. The first stage is the standard(ish) car (in rally trim). When we have a couple of reject shells these will be used to make a couple of variants in the future. The TR8 and with a lot of modification the Group 44 car.
The slightly modified 350GT Mustang bodyshell is also nearly done and looks really good. We should have it on its wheels fairly soon. The artwork for the Transit Supervan 2, recovery trucks and track rescue unit are done and should be off to be printed soon. Patos in Australia is doing our decals now and they are working fine.
I think the next car will be the Mk.2 Lotus Cortina but I have already started on another couple of rather interesting projects.
Oh and a quick note, Joe will be on holiday to Tennerife for the coming week. If you expect me to do the emails and everything else, well he would probably tell me off if I tried. So we will be on quiet running for a week. Back to normal once he is back though.