Latest news
New Painted Special! 26/01/2023
New Kit Available! 20/01/2023
The first news of 2023 19/01/2023
Back to work! 04/01/2023
Seasons Greetings and Happy New Year! 15/12/2022
My first show in two years, new models, and the cull 01/12/2022
News
Gone off on a tangent
19/04/2018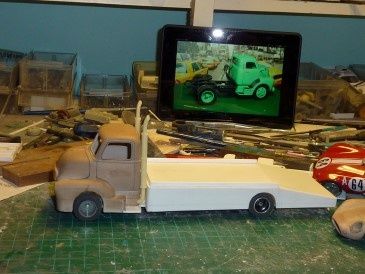 Gone off on a tangent again, but I think my Chevy Coe car transporter looks pretty damn good. And the Artic version should be very interesting. The transport should be ready for Gaydon, which is coming around quite quickly now. Our Aston Martin DBR1 is also coming along nicely and should be done fairly soon. We actually have decals for this one, so hopefully no hold ups.
So we have a lot of new models coming through whch will mean dropping some more of our old models from the range. The cars which sell the least of at the moment are the 30s race cars, so some of them are for the chop.
I am already blocking out some new stuff, but got about 5 new models to get on with after Gaydon. Not saying what they are but I have lots of idea. Some totally new and some that have been done but not as well as they should.