Latest news
Marcos is taking shape 23/06/2022
The Mini Marcos is underway again 09/06/2022
A New Painted Special and more 27/05/2022
Online Ordering 20/05/2022
Decals have arrived! 12/05/2022
New Kits and Track Update 06/05/2022
News
Decals have arrived!
12/05/2022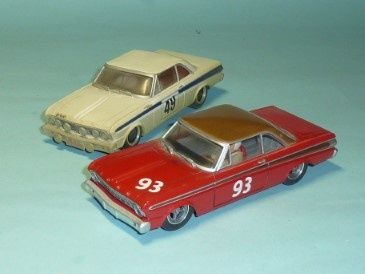 Decals have arrived! That means the E-Types can go onto the website at last. They are two racing E-Types, both look very mean, one hardtop and one roadster. Both come with 3D chassis and wheels. Yes our new kits now come with wheels, modern technology eh?
We also have the Monte Carlo Rally Falcon back in the range also with specially designed 3D chassis etc.
I am currently painting up 2 Lotus Elans in 2 tone sprint colours. I should have them finished and photographed in a few days to go up on the website.
The Lotus 19 Group S will also be up on the car page next week along with a couple of painted specials.
A few people have asked if I am attending Gaydon this year. Unfortunately I have heard that because of the virtual event in 2020 we took part in they do not wish me to attend. Bit sad but ho hum lifes too short to worry.