Latest news
My first show in two years, new models, and the cull 01/12/2022
Preparing for Orpington 17/11/2022
We will be attending Orpington swapmeet on the 20th 10/11/2022
New Painted Specials! 03/11/2022
The Volvo PV544 is finished and available! 17/10/2022
The Volvo PV544 prototype is done 06/10/2022
News
Christmas is fast approaching
22/11/2018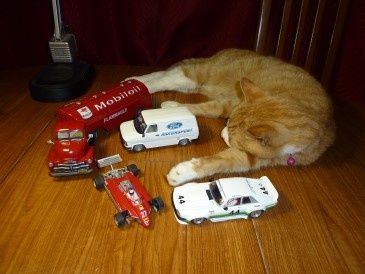 Christmas is fast approaching and we have two new releases and two re-releases. These will be our last new models this year. The two re releases are the Villenueve C2 Ferrari so if you did not get one first time don't wait as we only have a limited amount of decals. The second re release is the group 44 Jaguar XJS, again don't wait around for these or you'll end up being grumpy when you miss out, and no one wants to be grumpy at Christmas.
Our Mobil oil artic. tanker back is now finished and I think the whole rig looks rather good, should be interesting to get around a track. Last but not least is the Ford Transit Mk. 2, which is now completely finished. It comes with a choice of two liveries to chose from, both Ford Motorsport, and I think it is a super little model if I do say so myself. I have made it with a tow bar (in the kit as a seperate part) so it can pull our trailer, cool eh.
As I mentioned those will be the last models of this year, but a Transit recovery truck is done already and just awaiting its artwork. I am also about halfway through making the Transit super van. Both to be released early next year. I should have some pictures of them in a few days.
Now it is getting close to Christmas so if you are thinking of ordering some of our lovely kits do not leave it until the last minute, we tend to ease off by mid December and start practicing heavy drinking, not that we need any practice. So last orders will be taken around the 10th of December so I can get them out by the time we stop that weekend for our annual maintenance etc. After the 17th we will be too busy scoffing mince pies and beer to pay any attention to work!