Latest news
Important Notice... 05/06/2023
The Beast has proven to be very popular 25/05/2023
Beast of Turin Update 28/04/2023
At last the Beast of Turin is up along with more! 21/04/2023
Lots of new stuff coming along 06/04/2023
At last our 1924 Le Mans Bentley is finished 09/03/2023
News
Christmas is closing in very quickly...(last orders before the 10th.)
07/12/2018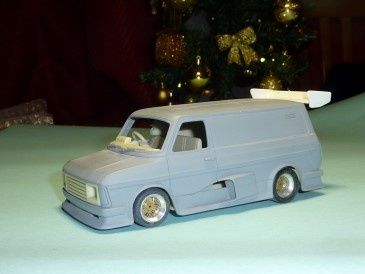 Christmas is closing in very quickly so you only have a few days left to order if you wish to get your lovely car kits before christmas (you have this weekend to get your orders in). Joe is working flat out getting orders out and I have already gone into christmas mode which means I get up late and not do a lot. Mind you the Ford transit supervan 2 is finished and will be our first new model of 2019. The artwork will be underway in a day or so. Also our new covered racing car trailer is finished, getting a couple of liveries sorted so it should look pretty damn good, towed behind our standard transit.
It has been an interested year model wise, you might have noticed we have not concentrated on race cars but have diversified with trucks and vans etc. which have proven very popular. We will be making 2 or three completely new cars to start the year, one of which will be the Austin 1800. This will make a good wide slot car, the Fiat Balilla also needs to be finished. For something a bit figgerent a 1/24th scale Ford Anglia, yes 1/24 and if Richard Mack makes a chassi for it it should be pretty interesting.
So what else for 2019? The triumph TR7 is underway and mine will look wonderful, a Ford Cortina mk 2, an old Daimler ambulance, and for F1 fans a 1982 Alfa Romeo 182 (maybe).
So that is about it for this year. We have brough out 25 new models this year including a few re releases. Mind you we brought back the Ferrari C2 because people kept asking about it and we've sold four of them, not falling for that one again. Fortunately we only had a few decals done so believe me I will not be making any more when these ones are gone.
Anyway apart from Christmas it is my 65th Birthday next week so even less work (Note from Joe: For you maybe) and maybe a drink or ten but I am not retiring. I am just getting the hang of this model making and I still love every minute of it (Another note from Joe: Even the fettling?), ok maybe not the fettling.
So from me and Joe have a good Christmas, seasons greetings and a very happy new year.