Latest news
New Painted Special! 26/01/2023
New Kit Available! 20/01/2023
The first news of 2023 19/01/2023
Back to work! 04/01/2023
Seasons Greetings and Happy New Year! 15/12/2022
My first show in two years, new models, and the cull 01/12/2022
News
At last some good news!
21/11/2017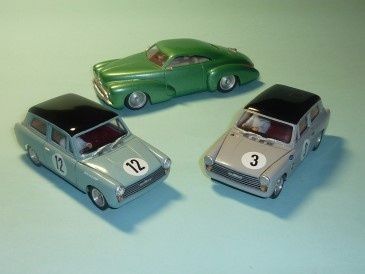 At last some good news! Our decals have arrived, they look good and apply very well. So now we can get on with releasing some new models. First is the Ford Pop, in two versions, standard and hot rod. The hot rod version is obviously a lot wider with nice big wheel arches. The standard road car even has front and rear bumpers, yes bumpers. We have also made a new wheel insert to suit the Pendle 15'' alloy wheel which looks pretty damn marvellous.
The second new model to be released is the Austin A40 in race form. This was inspired by watching the A40s racing at Goodwood (and also one or two people asking for it). I am in the process of making a lowered, superduper race version with nice big arches but this not be done for a week or two.
The third new model is the Holden Efigy. The Efigy was a concept car made, strangely enough, by Holden in Australia. Based on a Corvette floor pan and running gear it is a one off but I think it is a fabulous looking car and will make a great model for those of you into customising.
Talking of customising, the Ford Pop is also ideal for this.
That is enough new stuff this week. But there will be more next week. Getting back to our new decal sheet, we now have proper screen printed decals for our range of Chevy trucks and van. So if you buggered up the computer printed one we can send these nicer ones.
You may or may not be aware that at the moment we have over 100 models in the range. We have come to the conclusion that this is miles too many. So we are going to be drastically scaling back on the production of some of our older kits. We looked at what models we have sold very few of over the past few months and decided that once the stock of these is gone we will not be keeping any more stock. We made this decision as due to the move the amount of space we have to store the kits has decreased by a great amount, and with the new models coming out we needed to find some room.
We will be keeping the moulds so we will be able to make them but I will only be making them when requested. This means the order may take a little bit longer but hopefully not by much. Naturally if you all decide to buy loads of the car we will bring it back into general production. However at the moment, due to the lack of demand once the moulds of these kits are worn out we will not remake it.
The following is a list of all the kits and their Product Codes that will be going "dormant" :
Maserati 300S (GT 101, 102, 103)
Lancia D24 (GT 201)
Mclaren M8A and M8B (GT 401, 402)
Widened Morgan (GT 601)
Cheetah (GT 701)
Chaparral 2D (GT 171, 172, 173, 174)
King Cobra (GT 141)
Porsche 356 (GT 191)
Mclaren M6A (GT 211)
Chaparral 2C (GT 231)
XK120 Roadster and Rally cars (GT 262, 264)
Racing Imp (SAL 102)
Racing Mk. 7 (SAL 502)
Mustang (SAL 901)
ERA (GP 101)
Talbot Lago (GP 201, 202)
Lancia D50 (GP 501, 502)
Alfa 158 (GP 601, 602, 603, 604, 605)
MG K3 Racer (GP 701)
Maserati 4CLT (GP 901, 902, 903)
Alfa 8C and 12C (GP 131, 132, 141, 142)
Mercedes W125 (GP 151, 152, 153, 154)
Maserati 250F (GP 171, 172, 173)
Gordini (GP 191)
Cooper Bristol (GP 211)
I will be marking each of the kit pages to make clear that this will be an on request item.