Latest news
Artwork is underway 18/02/2021
The Maserati 151 LM is coming along nicely... 11/02/2021
RIP to our Jaguar XJS 04/02/2021
New Kits now available! 02/02/2021
The Lotus 23s are nearly there. 28/01/2021
At last the Vauxhall Firenza Droopsnoot is on the car page 21/01/2021
News
Another week of remaking rubber moulds is on the way
05/03/2020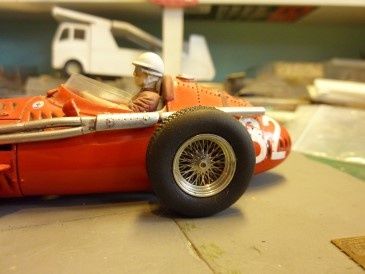 Another week of remaking rubber moulds is on the way for next week, lucky me. New moulds for the Aston DBR1 and Bedford van which have both proven popular, the Bedford was a bit of a surprise.
I have finished the hardtop Spitfire, this kit will come with our generic decal sheet so you can be all clever and make up your own personal version. The Spit will be available in a week or so.
I have managed to work on the Lotus Cortina Mk.2 it has its chassis and is on it wheels, it should progress next week along with the transporter. I will try and be good and stick to these couple of models until they are done, but I might get distracted.
Something of interest from our friend at Pendle Slot Racing is that they are making a new Tyre. It is a 23.5x7 treaded tyre and it fits there 15'' and 19'' wire wheels. It looks pretty damn good as a rear tyre for a lot of GP cars, especially the 1930s and 50s cars. I will be using it on my GP cars, see pic of my Mas 250F.
I was very pleased with my 250F, it just goes to show if you go see the car, measure it and photograph it and make your own drawings you will get a reasonable looking model. Never sold many as there is a Scalex one. I dont think they saw the 250F let alone measured it.I am allowed to moan now and then because it is somewhat annoying when big firms with all their resources can get it so wrong. I am not saying everything I do is spot on, none of us are that good. But I have been carving model cars for 50 years and get the serious hump when I see a model that I know they could have done a lot better. I am dreading their Mk.2 Capri. Yes it is a Mk.2, Ford never designated a Mk.3 Capri because it was just a face lift, with a few updates, bumpers, headlights etc. Not an entirely new car. The Mk.1,2 and 3 Escorts were all completelely different cars, the same with the Mk.1,2,3 and 4 Cortinas, all completely different cars. As was the Mk.1 Capri completely different to the Mk.2
Being an Essex man I love my Capris, may be one day I will make one just for the hell of it. Won't sell many but it will make me happy.