Latest news
The Owlet is finished/ The Cull Returns 23/11/2023
Another painted special and the owlett underway 09/11/2023
New Kits Available! 02/11/2023
Two more oldies 27/10/2023
1.24 Anglia Now Available! 20/10/2023
Darracq chassis issue 13/10/2023
News
Under construction
23-05-13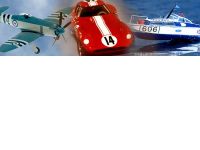 I thought I would put a photo up of the next few models under construction. I like to get about ten models underway, I dont know which one will be finished first but one or two usually take my fancy and then I get bored with them and start on another. This is probably not the best way to get things done but what the hell they seem to get finished sooner or later. And just to wind up a few people I have widened a couple of MGs. So now have an MGBeasty and an MGBeasty GT. They will both fit on Richard Mack chassis (also got a cobra for the RM chassis on the way as well).
The Merc W154 is the furthest along at the moment and will probably be finished first. Havnt got into the Jag yet, but have got on with the Allard. Some of you might have noticed a 1954 Ferrari 375, yes I know it has been done before but I just fancied doing one. Also a 1939 Maserati 4CL has been blocked along with an Alfa P3. Will also probably be blocking out a 1954 D type Jag. I believe one or two firms have done this one! But I think a bit of careful tweaking and an RM chassis should make a very good slot car.
I have got lots of ideas to sort out over the next few months. So hopefully will keep you informed. No rants this week but Im sure that will soon change.