Latest news
Important Notice... 05/06/2023
The Beast has proven to be very popular 25/05/2023
Beast of Turin Update 28/04/2023
At last the Beast of Turin is up along with more! 21/04/2023
Lots of new stuff coming along 06/04/2023
At last our 1924 Le Mans Bentley is finished 09/03/2023
News
The cobra is now on the products page
22-08-13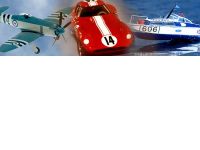 The cobra is now on the products page. It is low and wide, yes I have widened it. Cobras just look too skinny at scale width and they tend to fall over as soon as they reach a bend. This body will also fit on to an RM chassis (have not got these ones yet but wont be long).
Also on the products page is the modified lancia D24 which is lightened and lowered and comes with a new flat resin chassis. This model is also upgradable to use a RM laser cut chassis. These new castings are a big improvement on the early castings. The differences are subtle and in most cases it is difficult to tell the difference.
The modified Maclaren M8A is also finished but not painted or photographed. This model also uses a new design resin chassis with an option to upgrade to RM chassis.