Latest news
Important Notice... 05/06/2023
The Beast has proven to be very popular 25/05/2023
Beast of Turin Update 28/04/2023
At last the Beast of Turin is up along with more! 21/04/2023
Lots of new stuff coming along 06/04/2023
At last our 1924 Le Mans Bentley is finished 09/03/2023
News
Racing Jag is in production
28-05-13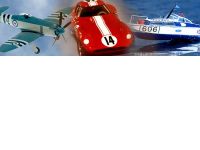 The racing Jag is now in production (at last). It makes a very big slot car, with a very long wheelbase. I now have the Mk 1 underway and also a D type, lots of jags this year, making a change from red cars (thinking of red cars I am making a Ferrari 375 and another maserati). At least the Mercs will be silver, at least silver is an easy colour to get right on cars.
On the lines of colours though green is a bit of a pain. Ever painted something British racing green? There is no specific colour, it can range from a windsor green to near on black depending on what car it was on. Halfords Brooklands green is a good allround shade. But on Le mans Bentleys you would need a darker shade to be more accurate.
This week has seen the ferrari and the D type taking shape. The D type I had not even considered making a couple of weeks ago and the Ferrari has been sitting around for over two years. So we will have the first and second cars from the 1954 Le mans 24 (The Jag is nicer).
The Allard is something different, should look good. Not sure if it will be any specific race car but hopefully one from Le Mans.
I have about seven models blocked out now so I will block out another three and will have the ten to choose from.