Latest news
New Painted Special! 26/01/2023
New Kit Available! 20/01/2023
The first news of 2023 19/01/2023
Back to work! 04/01/2023
Seasons Greetings and Happy New Year! 15/12/2022
My first show in two years, new models, and the cull 01/12/2022
News
Our first full week back at work...
10/01/2019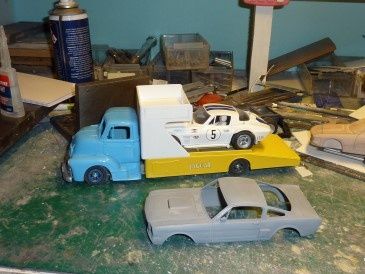 Our first full week back at work and straight on with the Triumph TR7 and it is going pretty well. A couple of weeks and we should have our first completely new models of 2019. Decal artwork has yet to be done so it will probably be in production by the end of February. On the subject of artwork and decals, the supervan and transit recovery truck artworks are well underway, so they should be out very soon.
The widened Mustang (Wustang?) is getting there and I think looks pretty damn good. Some will love it, some may not and if you do not then you are wrong, cos it is lovely.
Doing a little mod on our COE racing car transport. A tyre stand which should make it look a little bit more interesting, not that it isn't interesting already.
So what will the next new model be? At the moment I am thinking the Mk. 2 Lotus Cortina but I don't know that droop snoot could look good...