Latest news
The Cull Sale Underway 30/11/2023
The Owlet is finished/ The Cull Returns 23/11/2023
Another painted special and the owlett underway 09/11/2023
New Kits Available! 02/11/2023
Two more oldies 27/10/2023
1.24 Anglia Now Available! 20/10/2023
News
New products
06-04-13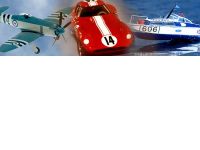 I Have been working on a couple of new projects this week ,still moulding but got a bit bored, I have modified a 1955 Le Mans short body Maserati 300S to fit a Richard Mack chassis. For those who have not come across these chassis they are about as state of the art as a slot car chassis can be. Beautifully made from laser cut steel and brass, and they work. The Maserati body has been lowered slightly and lightened by quite a bit. I hope to be able to ofer the chassis and body as a package including 4 ball race bearings. I have always prefered this version of the 300S Maserati. Still a bit of work to do on it though. Hopefully I will be modifying a couple of other cars to take these superb chassis. A few more pictures should be put up on the gallery soon.
I have decorated another Ferrari 126C2 up as the Villeneuve 1982 South African GP car. Will have pics up next week and will be put on the products section. For some reason we have been selling a lot more of the Villeneuve cars than the Pirroni ones.

Will be at Orpington slot show in a couple of weeks so if there is anything you wish to order for collection there please let me know.