Latest news
Important Notice... 05/06/2023
The Beast has proven to be very popular 25/05/2023
Beast of Turin Update 28/04/2023
At last the Beast of Turin is up along with more! 21/04/2023
Lots of new stuff coming along 06/04/2023
At last our 1924 Le Mans Bentley is finished 09/03/2023
News
More pictures coming soon
31-07-13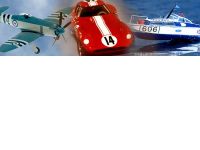 I am getting through the back orders steadily, but still very behind so bear with me.
As you can see from the photo I have been getting on with new stuff. The Jag mk1 is moulded, the first issue with wheel spats and narrow grill is ready. Will paint one up in the next few days. Cost will be £37 not including p&p. I will only do about 35 of these or as many as the mould will do. The prototype has already been modified so that will be it for this particular variation. It may surprise you but I will probably struggle to sell that many of these as this early car did not have much in the way of race history. So if you want one get in quick (as I could be wrong). The later Mk1s as raced by Mike Hawthorn should prove more popular, with any luck. I will likely be doing around four versions of this car.
The Galaxie is also moulded. I have not made a resin chassis for this car yet but will do in the near future. This car has been designed from the start to fit a Richard Mack chassis and on that note I have got some RM chassis in, I will put some pics up in the near future. I have 6 M8A sidewinder chassis in, plus modified bodies, 6 lancia D24s and 2 Maserati 300S (Four have already gone out). We will only be making these in batches of 6.
The Cobra is also moulded but no chassis yet (apart from my one), will also put pictures up of this soon. And as you can see from the picture displayed the D type is on its wheels but still a good way off. Still got to do the artwork and decals for all these new products.
I am also remaking alot of moulds for the Mk7s, Ferrari C2 etc. (basically everything that has been popular). The Ford Falcon is also to be remoulded so the Allen Mann and Rally version will be available again.
The maserati 300S 1955 and 1957 have been remoulded. They are now alot lighter and have new chassis designs. The maserati 300S 1955 LM car can now be bought as a standard body with no engine detail. These two cars also have vac interiors for lightness.
Went to the Silverstone classis at the weekend, got lots of photos and plenty of ideas.