Latest news
Important Notice... 05/06/2023
The Beast has proven to be very popular 25/05/2023
Beast of Turin Update 28/04/2023
At last the Beast of Turin is up along with more! 21/04/2023
Lots of new stuff coming along 06/04/2023
At last our 1924 Le Mans Bentley is finished 09/03/2023
News
More info about the Ferrari 126C2
24-01-13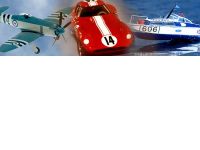 Ferrari 126C2
Some more info on my new Ferrari, there are some new pictures on the gallery (slot car extra) showing the parts break down. The decals and photoetching are under way.There will be 3 or 4 versions; Villeneuves and Pironis cars at Imola, and Villeneuves Belgium GP car. The last time Gilles drove the 126C2 was in the final qualifying of the 8th of May 1982. One risk too many.
The Maserati 4CLT has now been cast so there are also some pictures of the first resins on slot car extra on the gallery.
Also in the pipeline, although a long way off yet are the 1938 Mercedes-Benz W154, Mclaren M7A and the Brabham BT24.