Latest news
New Painted Special! 26/01/2023
New Kit Available! 20/01/2023
The first news of 2023 19/01/2023
Back to work! 04/01/2023
Seasons Greetings and Happy New Year! 15/12/2022
My first show in two years, new models, and the cull 01/12/2022
News
Matched my models
19-09-11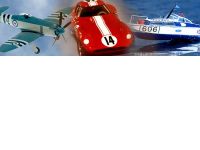 I have now managed to match nearly all my models to commercially available wheels and tyres using slot it, racer, pendle, and penelope pitlane products. I have also now made resin inserts to fit these wheels. So far I have made inserts for the M8A, M8B, M1A, King Cobra, Cheetah and Ford Falcon. Minilite inserts have also been made for a variety of wheels, although I have not worked out a price yet. Hopefully the quality will be up to standard. I will not be supplying wheels and tyres, just the inserts.
If anyone has asked for any extra parts and I have forgotten you, please email me to remind me.
The photo is of a special lowered and widened Cheetah, might put it into production.