Latest news
New Painted Special! 26/01/2023
New Kit Available! 20/01/2023
The first news of 2023 19/01/2023
Back to work! 04/01/2023
Seasons Greetings and Happy New Year! 15/12/2022
My first show in two years, new models, and the cull 01/12/2022
News
I've been busy
25-05-12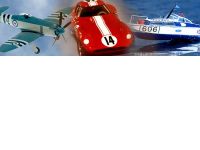 First of all let me appologise for not posting any news for quite a while. I have been very busy with orders.
I have three new models released this month: The 1950 alfa romeo 158 is now in production, this is the 1950 British GP car and the decal sheet allowes all four team cars to be made, including the winning car. If you liked the lago I hope you you will like the 1956 Lancia D50. This car has seperate Panier tanks and is Fangios 1956 Argentina GP winner, it makes a very pretty model. Lastly I have finished the Group 44 Jaguar XJS and very good it looks too, very mean with its big wheel arches.
Next month I will have some more new models, mostly modifications but I think they will still be interesting.