Latest news
New Painted Special! 26/01/2023
New Kit Available! 20/01/2023
The first news of 2023 19/01/2023
Back to work! 04/01/2023
Seasons Greetings and Happy New Year! 15/12/2022
My first show in two years, new models, and the cull 01/12/2022
News
Ford Falcon
04-09-13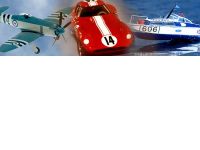 As I have remoulded the Ford Falcon it is now back in production. Had a fair bit of demand for it to come back so here it is. It has a new resin chassis and the body has been lowered and lightened making it look great. If you wish to raise it up you can do so very easily, but I think it looks better lower.
It will be upgradable, as with most of the remoulded models, upgradable to an RM laser cut chassis (available in the near future). Both the rally and Alan Mann cars can be found in the saloon section.
The Alan Mann car has a decal sheet with white body stripes and white side flashes, allowing for other versions to be made. Quite a few have been ordered so if you would like one order soon.
The decals for the Galaxie are now under way so hopefully it will be in production in three to four weeks, along with the Mustang.