Latest news
Important Notice... 05/06/2023
The Beast has proven to be very popular 25/05/2023
Beast of Turin Update 28/04/2023
At last the Beast of Turin is up along with more! 21/04/2023
Lots of new stuff coming along 06/04/2023
At last our 1924 Le Mans Bentley is finished 09/03/2023
News
Ferrari 126C2 is finished
22-03-13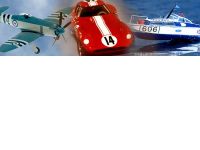 At last the Ferrari 126C2 is finished and in production. All three versions are available and specifications are on the single seater grand prix (ssgp) section on the car products page. The price is £38 plus pnp.
I have used Penelope Pitlane RSLW wheels on the rear with Scalex W9422 tyres. The front wheels are Slot It PA1715x8 plastic hubs, with Slot It PT07 Zero Grip 19x10 Tyres (the wheel inserts are made for these wheels, inserts are included in the kits). I dont think they look too bad.

We have also got two versions of the Maserati 4CLT and a new version of the Alfa Romeo 158 Alfetta is available. The 4CLT is a brand new model and the alfas are modified castings.

The Jag Mk. 7 is now out of production, the mould has worn out already due to its popularity.