Latest news
We have finished making our EE Transporter gearbox 09/09/2021
New Kit now available! 02/09/2021
The 1934 Singer Le Mans is finished 02/09/2021
Our New Firenza Prototype is Finished. 24/08/2021
It's Done! 03/08/2021
Thank you 19/07/2021
News
Who Noticed?
13/09/2016
Now those of you who are a little bit observant might have noticed our website has changed somewhat and we hope you like it (if you don't well **** off, tough). We are very pleased with it but we still have a few bits to do so please be patient while we sort out the little stuff.
This is the first proper news for a few weeks and hopefully we will get back to a routine of ranting and slot car news.
We have a lot of new stuff to show and if you buy lots of it I will like you very much. It seems people like to be liked or so facebook seems to think, still can't get my head around that one.
Our first Aston Martin is done, this is the 1950 Le Mans DB2, the decal sheet will allow you a choice of all three works cars that raced. This model will also be suitable for use with our runnings gear kits, which are to be sold with the cars, more on those later. Our second totally new car is the Cunningham C4R Le Mans 1953 and I am very pleased with both of these models. The Cunningham will also have a gear set ready to go soon.
A lot of cars have been modified and are back in the range, the MGB is back as the 1969 Sebring car. It is a new casting with new decals and if you bought the Sebring MGC GT you can have the full works team. This MGB is not widened or modified, so it fits in with our new ethic of more scale orientated cars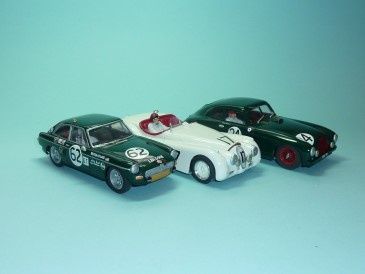 Next comes our 1949 Le Mans XK120s. All are available with there own individual decal sheets. On the subject of Jaguars the E-type has been remodelled into the Briggs Cunningham Le Mans car of 1962.
The Embiricos Bentley has been remodelled into the 1950 No. 12 car with out the rear spats. The Talbot T26GS has also been remodelled into the 1953 No. 7 car.
Our running gear kits are almost sorted out but still are works in progress. We have two sorted and they will work with a lot of our sports and saloon cars. We still need to sort out kits for the GP cars. As mentioned a couple of news ago, these sets are being sorted out with the help of pendle slot and will allow you to build a complete car. The kits will come with proper Ali wheels with the correct resin wheel inserts for the car purchased. Alternatively they will come with pendle wire wheels. The motor will be a standard Mabuchi 18k unit, and all wire braid, guide, axles, bearings etc. are included.
Have not got anything to rant about this week as I have just been to busy sorting out new stuff and our new spangly website... Did you see it?