Latest news
The Volvo PV544 is nearly done 08/09/2022
New Kit Available! 02/09/2022
Busy with wire wheels and another Edwardian 01/09/2022
Progress on our 3D printed wire wheels and inserts 25/08/2022
Three New Painted Specials! 19/08/2022
Making good progress on our 3D printed wheels 18/08/2022
News
Transporter Tyre Update
20/06/2019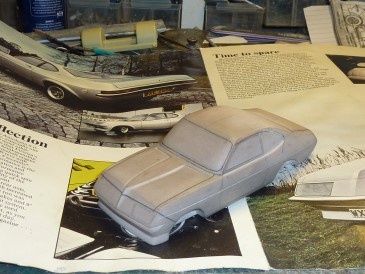 Transporter Tyre Update, Colin at RS Slot has sent me the four prototype tyres. As you may know Colin was flooded out last week and is unable to do any moulding. But a bit of luck for us as a friend has stepped in to help and will be making up a new tyre mould to make the tyres for me. Hopefully this means in a week or two we should be able to start sending out transporters. Once again to thos elovely people who have one on order, thank you for your patience. The rest of the kits are made but we are just waiting on these tyres now.
As you can see from the photos the droop snoot Firenza is taking shape. I thought this would be a fairly easy shape to do, not so, it is rather tricky. I have spent two days just redoing bits I was not happy with shape wise. It is looking better but not a lot different than two days ago. But by the end of next week the shape should be there. The headlights are going to be a bit of a problem, but if it was easy it would not be fun.
Joe says we must not release any more transporters for a while (even though I have almost finished another one) as they are a pain in the arse. I have to finish a couple more cars so a Lotus Cortina Mk II next.