Latest news
The Volvo PV544 is nearly done 08/09/2022
New Kit Available! 02/09/2022
Busy with wire wheels and another Edwardian 01/09/2022
Progress on our 3D printed wire wheels and inserts 25/08/2022
Three New Painted Specials! 19/08/2022
Making good progress on our 3D printed wheels 18/08/2022
News
Transporter tyre update, again
27/06/2019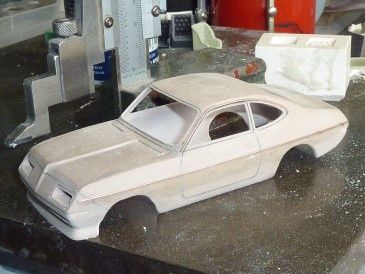 Transporter tyre update. My good friend Richard is in the process of making a mould for the tyres, so hopefully we will have some tyres very soon. We have around 20 transporters ready and waiting to go out, so as you can imagine this is very frustrating but should be sorted soon. As you can see from the photo, no more transporters apart from this one. Which will use the same tyres... However we will not be releasing this model until much later in the year.
In the meantime some cars. The Droop Snoot Firenza is taking shape nicely and should be on its wheels next week, lots still to do but it is looking good. I have about 6 models blocked out but I think the Cortina will be next, although that GT6 looks interesting. Trouble is I fancy making another truck, maybe a Ford Ranger.
Note: Joe will be on holiday from the 3rd - 8th of July so we will be quiet on the email front. Feel free to still email and we will get back to as soon as possible. Thank you for your patience.