Latest news
New Painted Special! 26/01/2023
New Kit Available! 20/01/2023
The first news of 2023 19/01/2023
Back to work! 04/01/2023
Seasons Greetings and Happy New Year! 15/12/2022
My first show in two years, new models, and the cull 01/12/2022
News
Threatening my customers seems to work
20/02/2020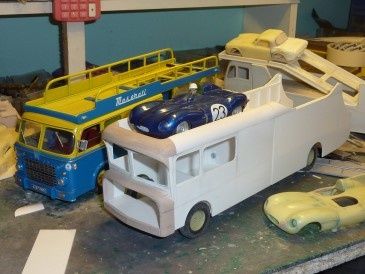 Well, threatening my lovely customers seems to work. We have now sold a few ERAs but we need to sell more, you have been warned. Need to try the threatening approach more often if it worked this well.
As you can see from the pics the new Ecurie Eccose transporter is coming along nicely but still has an awful lot of work to do yet. These large models are a big investment in man hours, silicone rubber moulds, and resin, but they are impressive.
Hopefully next week we will have our new decals so the group 44 Spitfire will be available along with our 1981 BTCC champion Mazda RX7 and the Ecurrie Ecosse D-Types. This is the early version with no fin, I think it looks pretty good and you will be able to put it on the EE transporter when you buy one (Cough, cough, hint, hint)
Even now we are thinking ahead to Gaydon Slot Car Fest, our transporter will be available by then (fingers crossed) plus the above mentioned cars and with any luck our pre first world war cars should be ready. Tyres are still a bit of a problem.
I got bored last week so I have made a Triumph Spitfire hardtop version, should be done next week. Then it is on with the Mk.2 Lotus Cortina or will I...