Latest news
New Painted Special! 26/01/2023
New Kit Available! 20/01/2023
The first news of 2023 19/01/2023
Back to work! 04/01/2023
Seasons Greetings and Happy New Year! 15/12/2022
My first show in two years, new models, and the cull 01/12/2022
News
The Triumph TR7 is now ready
04/04/2019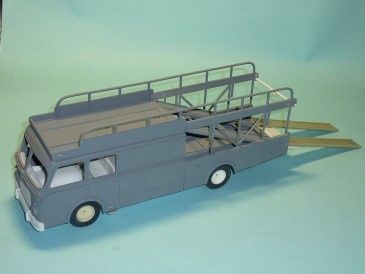 The Triumph TR7 will be on the car page momentarily and ready for you to buy lots of kits. I have already started on the Group 44 version which should be done next week, with lovely big wheel arches and a rear spoiler, should look very pretty.
The Fiat transporter is nearly done, as you can see it is just the interior to finish. Still have to sort out the wheels and tyres but we are getting there. We have made use of a bit of ingenuity when moulding the transporter, as it is a big model. It is made up in two main sections but all will fit together neatly. The artwork is already underway so as mentioned in the previous news Maserati and Ferrari versions will be available. Next news we will give you photos of the finished parts.
This is a rather special month for me as I am officially an old age pensioner. Yes I now receive my state pension so obviously I am going to retire and put my feet up and do fuck all. Nah only joking I enjoy making model cars too much. In fact I have now been making model cars for 50 years and I still love it. I cannot really call it a proper job but I still in up to 60 hours a week. Lets face it, toy cars are fun for us oldies.