Latest news
Important Notice... 05/06/2023
The Beast has proven to be very popular 25/05/2023
Beast of Turin Update 28/04/2023
At last the Beast of Turin is up along with more! 21/04/2023
Lots of new stuff coming along 06/04/2023
At last our 1924 Le Mans Bentley is finished 09/03/2023
News
The transit van is coming along nicely
06/09/2018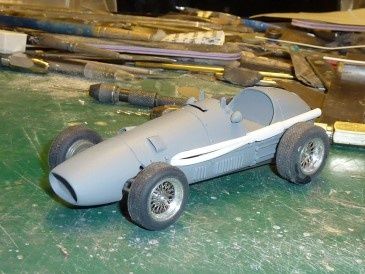 The transit van is coming along nicely. Originally we were going to make a Mk. I but it has been done before, so it has morphed into a Mk. II. The advantage of the Mk. II is I think it looks better but the main reason is I can modify it into a supervan 2, which will look pretty amazing. Having to do a bit of contract work for a few days, but I will be back on the van next week.
We have modified our Ferrari 500 F2: put a new long nose on it, a new exhaust, and a couple of bits here and there and hey presto it is the 1952 British GP car. It will not be out for a little while yet while we sort new decals for it. In decal news we have a couple of new avenues to go down, more news on that soon.
We have also been working our 1/24th scale Mini, originally this had a a vac formed body based on the Tamiya Mini. These 1/24th Minis were popular but a lot of racers prefer hard bodies, so we have modified the body and moulded it in resin. It is not finished yet but it should work pretty well. Hopefully these projects should keep me busy through September.