Latest news
New Painted Special! 26/01/2023
New Kit Available! 20/01/2023
The first news of 2023 19/01/2023
Back to work! 04/01/2023
Seasons Greetings and Happy New Year! 15/12/2022
My first show in two years, new models, and the cull 01/12/2022
News
The Lotus 30 prototype is finished
02/02/2017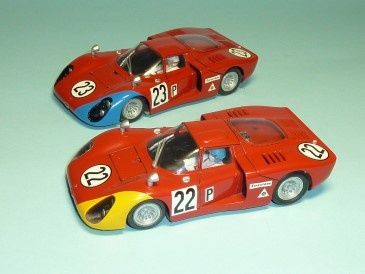 The Lotus 30 Prototype is finished and we will have it in the moulds in a day or two. So there will be the first castings early next week. Like every model, it has taken longer to finish than I first anticipated. But hey, I have to keep my standards. As you can see from the photo the Lotus has a more or less full interior cast in resin. We will be doing more versions in the near future but I have not quite decided which ones to do yet. This Lotus is very, very low so should make for a very good slot car... With this one done it means three new models so far this year and it is only the begining of February.
The Alfa T33 is now on the car page and, as mentioned last time, you will have the choice of sidewinder, for which you will have to purchase a Slot It sidewinder pod seperately from your favourite slot car shop. Or an inline version with our resin pod provided. The T33 is proving very popular already, with a lot of orders already confirmed. The T33 that I have done with the blue nose section is mask sprayed, while the yellow one uses the decal. If you can mask spray I would reccomend this for best results.
One or two have asked about the Alfa Periscopio that was on my bench a couple of weeks ago. If you would like to purchase one they are available exclusively from Pendle Slot Racing.
So what is next? Well next week I will be doing some boring contract work, which is unfortunately neccessary if I want to carry on eating and drinking. After that I will be getting stuck into the Le Mans Frazer Nash. This will be a tricky little car, so a bit of effort and thought will have to go into it. Models with cycle mudguards are always a challange, but it will look very good, promise.
I will be at the Milton Keynes swapmeet on the 12th. So if you are attending and would like to pick up a specific model, let me know in good time and I will get it sorted for you.