Latest news
The Cull Sale Underway 30/11/2023
The Owlet is finished/ The Cull Returns 23/11/2023
Another painted special and the owlett underway 09/11/2023
New Kits Available! 02/11/2023
Two more oldies 27/10/2023
1.24 Anglia Now Available! 20/10/2023
News
The first news of 2023
19/01/2023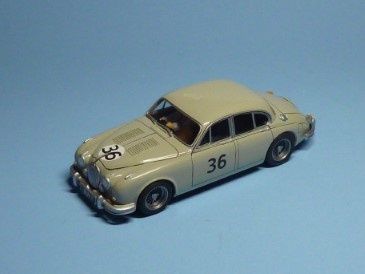 Well this is our first news of 2023 and so far... not a great start. I had a flu over Christmas and New Year and Joe has had an infection, leading to an eye problem and is on anti biotics AND anti virals.But we are now back at work.

The Mk. II Jaguar is just about done, I only have to finish photographing it and it will be ready to go on the car page. Hopefully following soon will be the 1924 Le Mans Bentley, which is coming along nicely. I will be back on to that in a week or two. Just got to make some moulds and finish some built models.

We will be putting some ready built models up in a couple of days, including two Maserati 300S' with engine detail. This car has always proved popular as a built model so get in quick. I also have a lovely little Singer 9 RTR and a Pan Americana Lancia D24. Will have some pictures in a day or two.
I think I have worked out my model plan for this year. I must finish that Ford pick up that has been on my bench for over a year. then the Ginetta, after that well we shall see.