Latest news
Maserati 151 coming along nicely 23/09/2021
We have finished making our EE Transporter gearbox 09/09/2021
New Kit now available! 02/09/2021
The 1934 Singer Le Mans is finished 02/09/2021
Our New Firenza Prototype is Finished. 24/08/2021
It's Done! 03/08/2021
News
The Cunningham C4RK is almost finished
09/03/2018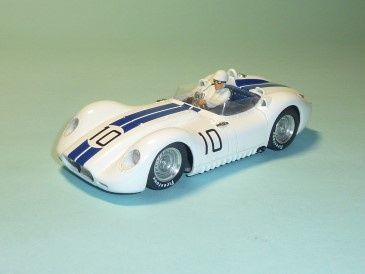 The Cunningham C4RK is almost finished it was started nearly two years ago but at last I have got into it. We will have to change the artwork a little as I have modified quite a few bits but it is looking pretty good. This model will be the 1952 version that raced at Le mans. I might do the 1953 car but that will be a new casting. We are also in the middle of sorting out our new decal sheet so our new Alfa T33s have been with the decal man along with our little Ferrari 500 F2. Next week I will be back to getting on with these. I have also got plans for another couple of models, so I think I am sorted for the next few months. When I say plans I do use the word loosely.
As I mentioned last news relying on plans or even worse, 3 view artists impressions for making a model is ludicrous. Most cars have an owners club full of enthusiastic people only too willing to help and will usually find you someome with the relevant car to look at and most importantly, measure. After you have taken lots and lots of measurements you a stand a chance of getting it right. Now this is not always possible, I have never seen a Lancia D24 or a Thomas Cheetah in the flesh but with a lot of careful study I can have a good stab at getting it pretty close. With a fairly common car, say something like my Ford Anglia there is no excuse to get it wrong. Even something as exotic as a Maserati 300S is quite easy to find if you go to Goodwood or the Silverstone Classic. Go prepared with a tape measure and a camera. I do realise if you live on the other side of the world it might be a bit more difficult but I have no excuse to get it wrong. And believe it or not at the year before lasts Le Mans there was a Cunningham C4RK on display.
The two Maserati 300S with engine detail will be ready in a couple of weeks so if you missed them first time then get your order in. I will not be making many as the moulds are a bit tricky. Also the Cunningham Lister Jaguar will be going on sale on the car page along with Texaco tanker truck.
As a note the ERA moulds have finally run their last so it has now been removed from the range. We will be considering whether to bring it back later in the year.