Latest news
Maserati 151 coming along nicely 23/09/2021
We have finished making our EE Transporter gearbox 09/09/2021
New Kit now available! 02/09/2021
The 1934 Singer Le Mans is finished 02/09/2021
Our New Firenza Prototype is Finished. 24/08/2021
It's Done! 03/08/2021
News
The Connaught is Finished
09/01/2017 and in production...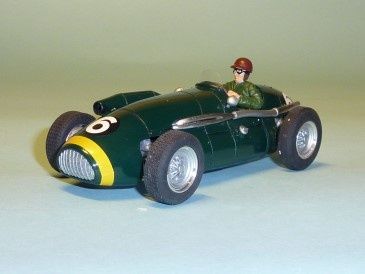 The Connaught is finished and in production and I must say it has turned out better than I expected. The uglier a car is in real life, the prettier the model. It is also a welcome addition to our early 50s GP cars. We have also made a new wheel insert especially for it that fits into the pendle ally wheel. Not an easy insert to make but it finishes the model off nicely. These inserts are available seperately on the accessories page.
So now it is on with the Alfa T33 1968 Daytona. Most of the model is already done so with any luck it will be finished within a couple of weeks. This model has been made to fit in with Slot It classic cars so has been widened a little (as are most cars from any manufacturer these days). We will also be giving the option of providing a choice of chassis, one designed for our standard inline pod and one that can be used to fit the Slot It sidewinder pod, which can be bought seperately.
One or two of you may have noticed that in a photo of my workbench, a couple of weeks ago, there was an Alfa Romeo Periscopio. This was sent to me by a slot car racer in Germany, so I could rework it a a bit into a producable resin kit. After talking with Pendle they have purchased all of the kits so they may sell them. If you are interested in one get in touch with Pendle, say George sent you (no it won't be any cheaper).