Latest news
Maserati 151 coming along nicely 23/09/2021
We have finished making our EE Transporter gearbox 09/09/2021
New Kit now available! 02/09/2021
The 1934 Singer Le Mans is finished 02/09/2021
Our New Firenza Prototype is Finished. 24/08/2021
It's Done! 03/08/2021
News
The Chevy pick up truck is finished
27/07/2017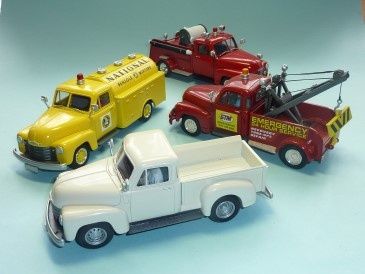 Another new model, yes our Chevy pick up truck is finished and on the truck page. I think four types of truck will be enough, so this and the firetruck when it is done will be the last. There is quite a lot you can do with this pick up and I daresay one or two will freak it up with big wheels and tyres etc. A hot rod pick up should look pretty damn good. The fire truck is still waiting for decals and will be released when they are sorted. Don't forget these are slot vehicles and do work on the track. I will be doing some Texaco decals for the tanker and then that will be this project finished.
The Holden Efigy is progressing nicely and should be finished next week, but I must admit the Ford Pop is sort of getting done as well. Efigy first though.
Now for a totally new model. Yes it has been done before but not for quite a few years and I think I can do it quite a lot better. Also it will be the newest car I've made, coming from the 90s (excluding the Efigy). So we will be making a Ferrari 333SP and it is already nice and wide so I can make it scale, how about that? Ferraris are usually popular so heres hoping.
We also still have the Aston, Cunningham, Coe Chevy truck, Bedford van and a couple of others to finish, so still lots to do.