Latest news
Progress on the Owlet 28/09/2023
New Edwardian Chassis 21/09/2023
Redesigning our Edwardian chassis 14/09/2023
1.24 Anglia moulded 07/09/2023
Three New Painted Specials! 24/08/2023
New Kits Available! 18/08/2023
News
The Beast has proven to be very popular
25/05/2023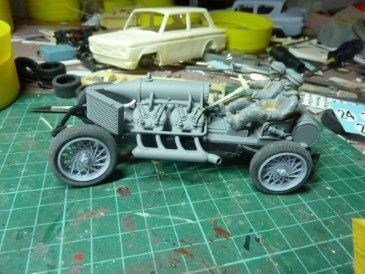 The Beast of Turin has proven to be a very popular model, which has caught us by surprise. We are working our way through orders at the moment but we are getting there. It has not helped that our latest delivery of resin has been delayed so we are on emergency measures as it were. However it should be arriving soon. And in case you were wondering yes it has gone up in price again (nothing goes down these days does it).
Remember when I said that would be it for Edwardians for a while? I lied. I have nearly finished the 1905 200HP Darracq. I have shortened the chassis for this one and used a bit of artistic license, but it looks pretty good in my view. It also fits in nicely with the rest of the range.
I think the Owlet could be next in the 1/32 range, then the Ford truck. Our 1/24 Imp is nearly there and the Ford Anglia is not far behind it. More on those soon.