Latest news
Maserati 151 coming along nicely 23/09/2021
We have finished making our EE Transporter gearbox 09/09/2021
New Kit now available! 02/09/2021
The 1934 Singer Le Mans is finished 02/09/2021
Our New Firenza Prototype is Finished. 24/08/2021
It's Done! 03/08/2021
News
The 68 Sebring MGC is done
13/07/2017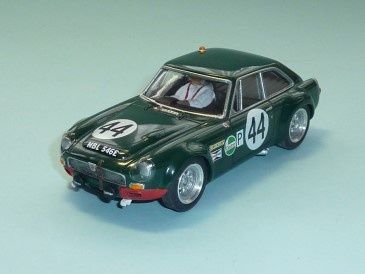 The 68 Sebring MGC is done. This is the unwidened version for all you scale aficionados, it is the Paddy Hopkikk and Andrew Hedges car that came 10th overall and 3rd in class, with the famous registration MBL 546E. This is the first model out of our new workshop and I am now working on the Holden Efigy. It is on its wheels and the only main component left to make is the front grill, which is somewhat tricky. But then if it was easy everyone would be doing it. Or 3D printing it, sighs.
Here we go again, right let's get this one finished. First a decent modelling program will cost up to and around 10,000, a decent 3D printer will cost you upwards of 30,000. The £500 printers you get in the shops are nowhere near the spec required for precision model making, great for whistles though. Then you have to pay someone to use the design software and who hopefully has an eye for shape. And then you have got the cost of the printing materials, which are again not cheap. After all this you've still got to pay for decals, photo etch etc. So in terms of getting an affordable model for the things we supply you with, it is a long way off. That said we are starting to use a bit of CAD and 3D printing for chassis prototyping, where mm accuracy and geometric design is useful.
So hopefully we should get the Effigy done next week. It will be interesting to see how popular this model will be. We have to try some different models every now and then. Not everyone is racing the cars so why not vans and truck etc.
Last time we said we will be cutting our range. At the moment we have 116 different models and variations. So at the very least we will be looking to cut this to below 100 for the time being.