Latest news
New Painted Special! 26/01/2023
New Kit Available! 20/01/2023
The first news of 2023 19/01/2023
Back to work! 04/01/2023
Seasons Greetings and Happy New Year! 15/12/2022
My first show in two years, new models, and the cull 01/12/2022
News
The 1954 Chevy Tow Truck
03/04/2017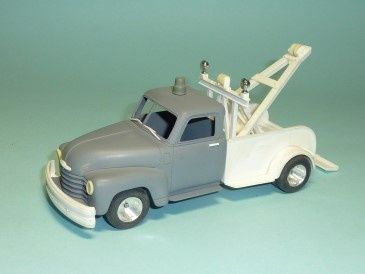 The 1954 Chevy tow truck seems to have taken focus over models at the moment. I really like it. It is certainly big and rugged, something different. The rubber moulds are in the process of being made so we should be getting it finished in the next few days. There will be quite a few bits on this one as you might imagine. I will also be making a longer version with double rear axles and a tanker back or a transporter or a rocket launcher, not sure which one yet. Then I must crack on with the Auto Union, still not looking forward to all those bloody louvres. It will be a good model to add to my 1930s GP range though. I also think a Bugatti and maybe another Alfa are in order. These models are pretty easy to make and even easier to mould. Doing the louvres though definitely sorts the men from the boys.
I have seen a couple of resin models lately and thought maybe a bit more time could have been spent on the prototyping. There is no excuse for not getting both sides the same. Having a 10mm thick wall on a resin is now not acceptable. They should and can be made lightweight and reflect the quality of a good, well thought out prototype. The only way to do that is to put in the hours, near enough is never good enough. We are making something to sell and our customers deserve a model that looks good and works well. Resin models are not cheap, by the time someone has bought all the paint, glue and running gear it comes to a fair bit of dough.
Mega Imp should be on the car page very soon along with the wheel inserts for the Alfa T33 and Lotus 40.

Must get this Auto Union done for Gaydon, which is rapidly approaching.