Latest news
New Painted Special! 26/01/2023
New Kit Available! 20/01/2023
The first news of 2023 19/01/2023
Back to work! 04/01/2023
Seasons Greetings and Happy New Year! 15/12/2022
My first show in two years, new models, and the cull 01/12/2022
News
Strange times
02/04/2020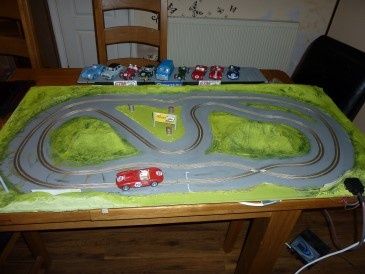 Strange times I guess for all of us. Joe and I work at home so we are lucky we can carry on as before, sort of. Motivation does start to become a problem. Gaydon Slot Fest has obviously cancelled, understandably. But it was a point to aim for to get projects done, now they do not seem so important to get done when I intended. The trouble is I often go off on tangents. I have made a Commer Q25 van plus a little trailer and a new smaller, flat trailer. I should have been working on the Ecurrie Ecosse transporter or the Mk2 Lotus Cortina. I have also got my airbrush working and started messing around with weathering effects on some of my models. I will probably sell these if anyone is interested (more details next week).
You may have noticed my new track. I know one or two people have realised a single lane home track is a good idea as let's face it, you are usually whizzing around on your own. My track is on a 4ftx2ft board CNC routed and braided. A lap takes about 5 seconds and if a car comes off I do not hae to stand up to put it back on. It sits on our table and can be put away in a couple of seconds, I love it.
Back to cars, the hardtop Spitfire is done and will be up on the car page in a moment. Please buy some models, you know you weren't going to be building them straight away anyway. And if you are buying the ones you bought two years ago, you will run out! Think ahead.