Latest news
Important Notice... 05/06/2023
The Beast has proven to be very popular 25/05/2023
Beast of Turin Update 28/04/2023
At last the Beast of Turin is up along with more! 21/04/2023
Lots of new stuff coming along 06/04/2023
At last our 1924 Le Mans Bentley is finished 09/03/2023
News
Now down to business
23/02/2018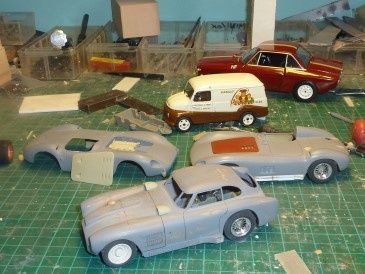 Now down to business, the Milton Keynes show is done and it was very enjoyable. Met up with some old friends and by golly we are getting old. However, with age comes great wisdom (Joe looked at me funny when I said that). All those years of making racing cars, if you cannot put a number on it do not make it etc. etc. and the thing I sold the most of at MK was the Bedford van. All we gone by the time the show opened and we have pre orders before it is even released. It will be up on the page very soon. So after all these years it seems we still have a lot to learn. Trucks and vans are proving as popula as racing cars.
Do not fret race car lovers as the Le Mans Alfa T33 is well under way along with the Targa Floria car which is just about done. Just need some proper decals which we are in the process of having sorted. Hopefully on this sheet we should have some room to replace some old decals which did not work so well. This will hold up a couple of models but it does mean I am actually getting on properly with the Cunningham C4RK (Joe adds: Finally). You may have also noticed the Maserati 300S with engine detai.. Yes it will be coming back in some time by popular demand. It is also to be updated with a new chassis, driver and a full interior if you would like to make a static version. It is a bloody nice car so if you missed it last time get in quick as we probably will not make many.
A little talk I had with someone at MK which be of interest to people. I have mentioned this before but hey I'm old and repeat myself repeat myself. This concerns old plans and 3/4 view drawings from mainly old model cars magazines. If you want a reasonably accurate model these drawings should only be used as a guide. As nearly all of them are utter rubbish, a monkey could do better and I dispare when I see model makers using them. There are a few good ones but you have to be clever like what I am to be able to tell. Look I am not being big headed (Joe: Yes you are) I am a one trick pony but I do know my trick. I have used these drawings but only as a rough guide and nothing more. Remember just because some bloke has drawn it does not mean it is right.